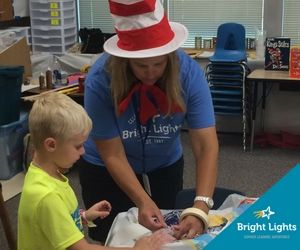 We often get asked what a day in the life of a Bright Lights student is like. We thought one of our students, could say it best:
I attended Dr. Seuss is Loose last summer as a first-grader. This was my first time taking a Bright Lights class. My mom dropped me off in the gym with my classroom helpers. We waited until everyone was in our group. Then we went in our classroom to meet our teacher.
My teacher read us a different Dr. Seuss book each day. She was really friendly, and I met some nice friends. After my teacher finished reading, we did stations at three tables about things from the book and gravity. The activities were kind of based on art and science. One day we made tin can stilts and another we put together plastic bag kites that we flew outside.
Each day we had snack and outside recess. After recess we'd finish up our projects. Then our teacher would read about Dr. Seuss's life.
It was a great class to me, and. I hope you will love it too. I give Dr. Seuss is Loose a 10!
Sarah, 8