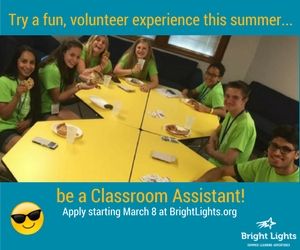 When I was younger, I spent my summers participating in many different Bright Lights camps. Last summer, I took on a new role as a Classroom Assistant to help create a fun environment for these kids to enjoy just as much as I did. I volunteered for two different day camps: LEGO® Robotics and Hogwarts. I'd like to give you a glimpse of a "day in the life" as a classroom assistant with the robotics day camp at Holmes Elementary.
In the morning I would check in with my two classroom teachers. After this, I went to the gym to welcome all the students in the class and to chat with them about their projects while taking attendance. At 9:00 am, after everyone had arrived, I led the students to our room, where the teachers would typically give them instructions and inform them on the plan for the day.
After that, the students would begin working on their respective robots. Some students were creating elaborate machines that took many days to construct while others opted for creating multiple smaller creations. I would assist by helping the students with organization, understanding instructions and diagnosing why their robot may not be functioning properly.
At 10:30 it was snack time, so I would supervise kids from all classes on the playground (and sometimes join them for a game of Four Square). Later we'd all return to class and work until lunchtime. Because this was a day camp, the kids would go to lunch and return in the afternoon. The afternoon followed a similar schedule with construction and snack time. At the end of the day, I would help students clean up and organize their LEGO bricks in preparation for the next day.
Applications will be accepted beginning March 8, 2017.