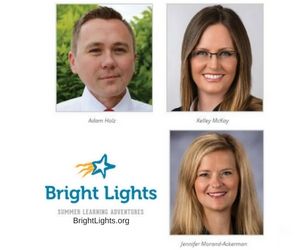 We are pleased to announce four new members to our board of directors as well as our 2017 executive committee members.
Joining the board are Adam Holz, account consultant at SolutionOne; Kelley McKay, recruiter at Lincoln Electric System; Jennifer Morand-Ackerman, director of marketing/assistant vice president at West Gate Bank; and Damian Shotkoski, CPA at Shotkoski & Associates. All of these new members bring strong leadership skills, nonprofit experience and a passion for education to the current Board of Directors. Their talents will support the Bright Lights mission of providing children with authentic, hands-on learning adventures each summer.
The 2017 executive committee includes:
• President – Brandy Johnson, external affairs manager at Black Hills Corporation
• Vice President – Stephanie Rodriguez, senior human resources coordinator at Olsson Associates
• Secretary – Monica Henkenius, community volunteer
• Treasurer – Jake Muhleisen, vice president commercial loans at UBT
• Past President – Brad Penner, public relations counsel at Firespring
Welcome to all! We are looking forward to another great year of providing quality summer learning for students in kindergarten through eighth grade.