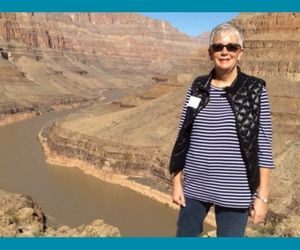 Some people donate their time to a cause. Some people donate money. We have the amazing Carol Letts who does both! So we asked her recently why Bright Lights means so much to her, and here is what she told us in her own words.
How did you first become involved with Bright Lights?
I retired from the Gallup Organization (Gallup Polls) in 2005. My husband Steve and I purchased a motor home and traveled for a year seeing different parts of the US. After our first year we decided to spend about half our time in Lincoln and the other half in Indio, CA where we had purchased a lot in a motor home resort. While in Nebraska I needed something more to do than run my granddaughters around, etc. My oldest granddaughter had taken summer school classes at Bright Lights and a friend suggested I call them and see if they needed any volunteers in the office. Luckily they did need help and I started volunteering one day a week when we were in Lincoln.
How many generations of your family have taken classes, been classroom assistants, etc?
Two generations of my family have taken Bright Lights classes. My daughter, Angela, and my son, Josh, were early participants. My granddaughter Madi (16) took classes and was a teaching assistant and her cousins Aubrey (12), Emma (8) and Isabel (6) take classes each summer.
Can you tell me about your family's group donation last year around the holidays? What prompted you to choose Bright Lights?
My parents passed away a number of years ago. Before their passing, we (7 children) all brought our families home to Emporia, KS for Christmas. It was a special time. After their passing and the growth of all our individual families, we decided to not give gifts to each other but we would take turns selecting an organization which was special to us and make donations to that organization. This past Christmas was my time to choose an organization.....it was Bright Lights. I wrote my siblings and told them about Bright Lights and how they could donate. They loved the mission of Bright Lights and each choose an amount to donate.
Not only are you a faithful volunteer, you are a faithful and generous donor. Can you share why you feel it's important to give to Bright Lights?
Bright Lights is a very special organization to me. It has a wonderful mission of giving to younger students during the summer months so they can continue their learning. Not all families can afford to send their children to Bright Lights or provide transportation to the classes. Children need to continue their learning and growth during the summer months as well as during the school year. Learning doesn't just happen 9 months out of the year and Bright Lights makes it possible to have fun, learning experiences during the summer months.
You and your husband Steve have been sponsoring a class for over five years now. Can you tell us about that?
One of my favorite classes is Funky Furniture. I tell Steve each summer that I want to take the class along with the kids. It is so innovative and unique and as I have observed the class in session, the kids are having a great time and creating some fun furniture to put in their rooms at home.
You and your husband have also generously provided scholarships for in-need students for over 10 years. Can you talk about why you find that important as well?
All children need to learn and be motivated during the summer months. Bright Lights provides unique learning opportunities for all.
Why is the mission and cause of Bright Lights significant enough for you to give of both your time and dollars?
The time and money that we donate to Bright Lights is returned 10 times over in knowing the joy it brings to kids.
Can you share any personal stories about Bright Lights and/or being a donor?
I receive more than I give from my work with Bright Lights!!!