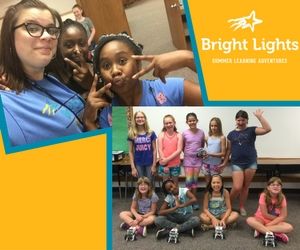 I absolutely love to teach. I love technology and being creative. I am a self-proclaimed nerd! When I got the opportunity to learn to be a Lego Robotics teacher for Bright Lights I jumped on the opportunity. This sounded like a perfect fit for me. In my day job I teach kindergarten at a Title 1 school here in Lincoln. I love being around the energy of kids. I love interacting with them and seeing them try new things and gain confidence in themselves. Teaching Lego Robotics combined several of my interests into one awesome package.
While I didn't have any experience with the specific EV3 Lego Robotics kit, I am not intimidated by technology and welcomed the opportunity to expand my knowledge. During my training week with Kathy Horejsi (fellow Bright Lights teacher) I got to learn right along with the students. It was motivating for me to see the kids figuring stuff out before I did. Of course I ran right over and had them show me what they had done and I was able to immediately turn around and use that new knowledge to help guide another group of students. I was honest with them and let them know that I was learning too and we all became one big team working towards a goal. The fact that nobody was being graded and the only objective was to create and learn from it was super refreshing. It took the pressure off of everyone. I got to see children learn for the sake of learning because I worry that some days in the public schools we may have lost sight of the fact that learning is fun! This is the kind of teaching that I thought I was going to get to do while I was in college working towards my degree.
After teaching for two very challenging years in a row, it was very re-energizing to get into a classroom during the summer and teach for the love of teaching. I had lost a part of that in the daily grind of teaching. Bright Lights helped me remember why I do what I do and why I absolutely love what I do. Building relationships with students and being a mentor to their learning is one of the best things a person can experience and I certainly got that opportunity through each class at Bright Lights. I returned to school this fall with a new sense of purpose. I wanted to help kids realize how much fun there can be in learning even with high rigor. I'm getting better each year at stepping aside and allowing kids to productively struggle their way through a new book or a new math concept the way my students productively struggled through programming their robot to follow a path or perform a task. It is harder while they're in the middle of it to do it on their own but when they finally strike gold and something works, the benefits are obvious on their faces. Their feeling of accomplishment carries them through the next task and they realize that they truly can do anything they put their mind to. They are able to realize their own potential.