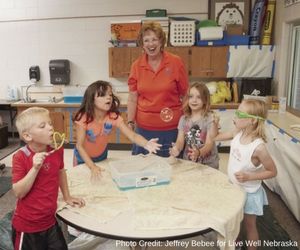 Five years ago as I sat at my computer reading my emails, the Bright Lights newsletter popped up in my inbox. The newsletter included a posting for the position of Education Coordinator. After 34 years with Lincoln Public Schools I was considering retirement, but knew that before I made that decision I needed to find a way to continue to be engaged with teachers and students. This opportunity seemed to be the perfect way to do just that. My own children had loved the Bright Lights classes and I had helped in distributing scholarships to students to attend summer classes. And now, to think that I could possibly work for this highly respected organization was more than I could have ever imagined.
Well I was hired as the Education Coordinator and for the past five years, I have enjoyed every experience. I've had the opportunity to work in collaboration with talented educators, college professors and enthusiastic community members who have been excited to share their passions, experiences and knowledge with students. And then, to witness the excitement and enthusiasm from students as they engage in these creative summer classes—amazing! But, now it's time for me to pass this responsibility on to someone new.
There are so many people to thank:
• the Board of Directors for entrusting me with the continued growth of this wonderful program;
• the amazing teachers who share their outstanding talents in creativity classes for students;
• the families who entrust Bright Lights with the safety and enrichment of their children;
• the generosity of the community that supports this organization in so many ways;
• and the outstanding, small but mighty Bright Lights office and summer staff who oversee every detail of this program.
My goal as I began this journey was to make sure that Bright Lights would continue to engage students in learning for many years to come. I have been both humbled and proud to have been a part of this organization, and I look forward to watching the program move forward into its next 30 years of summer learning adventures.