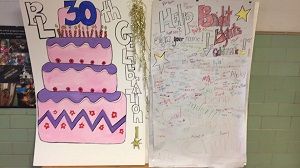 Well that's a wrap on another summer of Bright Lights classes! And what a great time we had celebrating our 30th summer! To finish things out we thought we'd share a few more of the stories we have collected from past Bright Lights participants.
"I have many, many happy memories of my time with Bright Lights.  I've spent 26 summers as a teacher and summer administrator.  I've met amazing students and incredible adults.  A lifelong friend, Michelle Kiesel and I met one summer at Morley Elementary.  She is a wonderful person and outstanding educator!" – Bob
"It was a fun trip down memory lane when I remembered the great experiences I had in my childhood at Bright Lights. Looking back, not only did I thoroughly enjoy my time there as a kid, but now as an adult I realize that Bright Lights essentially pioneered today's ideal youth program with social interaction, creative activities and simply getting kid out in the world in an environment of fun and learning. It makes me feel awesome knowing that Bright Lights is still operating today; now I especially appreciate the positive impact this organization has on this generation's youth. Thanks for all that you've done, and keep it up!" – Kirk
Thank you to everyone who taught, attended or volunteered at a class this summer or in any of our previous 30 summers. We have loved serving the children of Lincoln all these years and we're looking forward to 30 more!