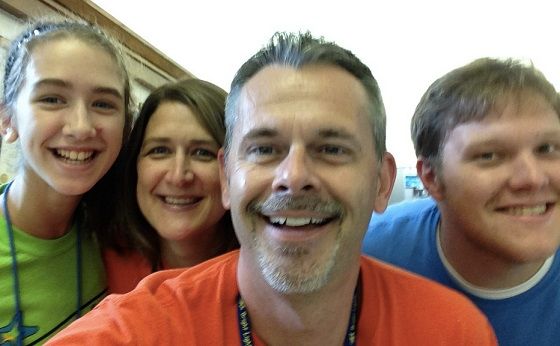 25 years? 25 Years? 25 YEARS!!! I have to keep saying this to myself, because it is very surreal. To realize that I've been with the Bright Lights program for nearly as long as I've been teaching for Lincoln Public Schools is a point of pride for me. It's been such a pleasure to spend each of the last 25 summers with a program that does so much for children in and around Lincoln and from around the world!
My first summer of 1991 with Bright Lights came about because co-founder Barb Hoppe (Johnson) asked me to teach. I had just spent a year teaching her children at Pyrtle Elementary. I co-taught a class with a person who had a deep interest and expertise in ancient culture, so we developed a class about creating a culture in which we then buried artifacts to be found by other classmates as a sort of discovery experience. I was brought in to support both the arts experiences and the teaching methodology.
Over the years, I had other amazing teaching situations. I was fortunate to co-teach a year with my good friend, Michelle Kiesel (who I met at Bright Lights). We each had our own group of students for a class about Eric Carle. We would teach the groups together but then split the groups up with Michelle doing the science part of the curriculum and I working with students in art experiences. I co-taught another class with Liz Shea-McCoy (again, met this wonderful friend through Bright Lights) using screen-printing as the vehicle for hands-on, minds-on. What a mess but what fun.
Then, I landed on two classes I taught solo for years. Dress Up and Draw focused on themed days (such as favorite physical activity day and bedtime day) with drawing and painting activities. My most favorite class I taught, though, was Mask Magic. Towards the end of my teaching experience with Bright Lights, I offered both a primary and an intermediate level of this class. We studied and created similar masks in both classes, however the intermediate students had more autonomy to structure their experiences and could take things to the next level. I'm happy to say that updated versions of both classes are still being taught by energetic teachers.
I've been fortunate to be a Bright Lights administrator (or an "Orange Shirt" as we call ourselves due to the color of shirt we wear) the past few years. This is a very rewarding experience in that it affords me the opportunity to work with students, teachers, parents/guardians and the community. It's exciting to see the big picture and how all the parts fit together to make an amazing experience for students all summer long. So, as I embark on yet another summer with awesome kids, amazing staff and an incredible administrative team, I can't help but reflect and appreciate 25 years of service. I think of myself as the Bright Lights "Crampa". (Find me this summer to ask me about the story behind that term!)
Here's to another outstanding summer with Bright Lights and to another 25 years!