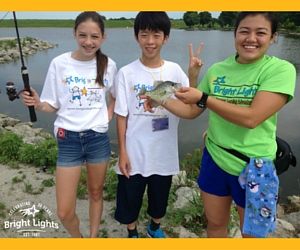 Mark your calendars! Give to Lincoln Day is right around the corner on May 26th and we encourage YOU to give to Bright Lights using https://givetolincoln.razoo.com/us/story/Bright-Lights.
This is your chance to make a true impact on the lives of Lincoln-area students by giving the gift of summer enrichment. Maybe you attended Bright Lights yourself, or have sent your child to Hogwarts Academy or LEGO Robotics and understand the value that Bright Lights adds to your children's summer and to the community itself. But if you haven't, let me share a few quotes from our past students, parents and teachers:
"I enjoyed touring the different engineering spots such as the day we learned about bio medical/agricultural engineering and when we learned about the Tractor Testing. I also enjoyed learning how to make a robotic car from a DVD player. The day at Henry Doorly Zoo was amazing where we were able to walk above and underneath the aquarium to see all of the fish in quarantine."-- Student
"It was cool to see cows at an organic farm and sample homemade cheese."-- Student
"My class was SOOO much fun. You could decide what you wanted to do. You learned about topics that will really take place in our futures."-- Student
"Kids are getting excited about science at Bright Lights. This environment is a safe and fun place to learn, grow and show others what they know. I loved seeing kids try and experiment and then explain why or how something works. Learning is fun!"-- Teacher
"My kids can't wait for next year! As a parent to hear them say they've had the best summer is priceless. The organization is well planned and the kids learn so much, often without realizing how much they are learning." – Parent
"Thank you for supporting this program, for all who take the time and dedication to make this a great program a success, and for making it a memorable experience for my kids. We will always support a program that continues to further a child's education and learning experience. If we as adults don't provide the opportunities to children, then children won't have those opportunities. So, once again, thank you… A job well done!"—Parent
In celebration of Bright Lights turning 30, we have a new option this year that allows you to donate $30. Other gift options include amounts to provide a healthy snack for an entire Bright Lights class ($50), provide a scholarship for a student to a full- and/or half-day classes ($115 and/or $230) or give a gift of $600 which will sponsor an entire class of students excited to participate in fun, hands-on learning this summer.
When combined with the community matching funds provided through the Give to Lincoln Day event, your generosity will help to ensure that elementary and middle school students in Lincoln continue to explore beyond the typical classroom while learning new skills and maximizing their summer fun.
Please consider including Bright Lights on your Give to Lincoln Day list and give generously at: https://givetolincoln.razoo.com/us/story/Bright-Lights.
Stop and say hi!
If you're downtown on May 26, please come see our booth at Tower Square (13th and P Streets)! We'll be there from 9:00 am- 2:00 pm.
PS: You don't have to wait until May 26th to give—you can actually go in and set up your gift now using this same link!