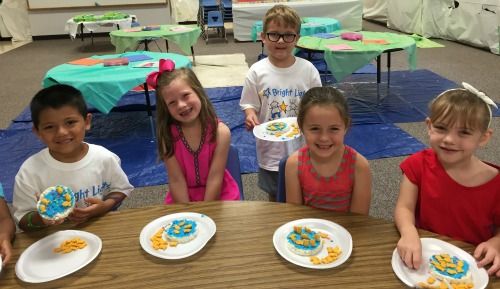 Quality summer learning is a vital part of students' academic success. Bright Lights provides programs that promote and enhance creativity, the mastery of new skills and keep students from the "summer slide." However, Bright Lights does not receive federal, state or local tax dollars and is not supported by public or private schools. YOUR support, dedication and enthusiasm preserves Bright Lights learning programs.
Your tax-deductible donation can take many forms:
Class sponsorships contribute to the cost of classroom rental, supplies and teacher salary. A great way to ensure a variety of classes and subjects for summer!
Scholarship giving allows children who need it the most, quality summer learning. Each year approximately 300 students receive a scholarship to a Bright Lights class. This gift allows a diversity of education for all students.
General Fund giving contributes to the overall operating costs of the program, including: health and safety, insurance, background checks, materials and teacher salaries. Program fees only cover roughly half of operating expenses—the rest comes from our community and people like you!
Give to Lincoln Day, on May 26th, provides supporters have the opportunity to give to Bright Lights and have a portion of their donation proportionately matched by the Lincoln Community Foundation.
Dine & Donate events are an easy way to give while getting a bite to eat. Throughout the year, Bright Lights hosts a series of fundraisers at local restaurants who generously give back a percentage of proceeds to Bright Lights. Check our webpage or Facebook page for up-coming opportunities to participate!
Volunteering your time is incredibly valuable to us. We have both special event and regular weekly or monthly volunteer positions available. Please contact us and we can set up whatever works best for your schedule!