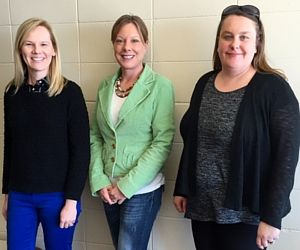 February is always a busy time at Bright Lights as we gear up for registration and summer classes. This year it's even more exciting as we welcome several new staff members!
Jen Jorges joined us in November as our Annual Fund/Administrative Specialist. She coordinates the annual donor appeal as well as our dine-out nights and other fundraising events. Jen and her husband, Lateef, are both Nebraska natives but lived in San Francisco for ten years before returning to Lincoln. They have three girls who all attend Prescott Elementary school and Jen is currently the PTO President. Jen and her family enjoy cooking and traveling and all three of her daughters have attended Bright Lights camps in the past!
Diane Steinke began working in November as our Grants/Financial Specialist. She is helping to write grants for the 2016 summer program and beyond, and also handles bookkeeping and payroll. Diane is married to Nick and they have two daughters who look forward to attending Bright Lights camps again this summer. Diane enjoys cooking, running, photography, and the outdoors.
Nancy Waite is employed as our new Registration Specialist and will be coordinating student registration for summer classes. Nancy and her husband, Matt, have two children. Their daughter attends Scott Middle School, and their son goes to Cavett Elementary. Nancy enjoys baking, traveling and watching her kids play sports.