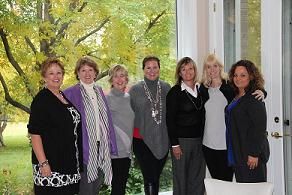 Bright Lights supporters enjoyed a morning of celebrating summer learning, meeting old friends and making new ones at an October 29th coffee hosted by Shawn Farrar and Margie Donlan. Shawn's beautiful home was the picturesque fall setting for the event where friends gathered to learn more about program highlights, new classes, recent summer learning research, and the impact their gifts had on the 1,579 students Bright Lights served in summer 2013.
"As a community, we need to ensure that all children have access to expanded learning opportunities (ELO). These programs should provide not only experiences in science, technology, engineering and math (STEM) but also critical thinking, problem solving, communication and the chance to work cooperatively in teams. . . the skills that are needed for the jobs in their future," Pam Magdanz, Bright Lights Education Coordinator, stated. She enlightened the group about the importance of extended learning opportunities and elements to look for in a high-quality ELO such as Bright Lights. "Recent studies of high quality expanded learning opportunities have shown that students demonstrate increases in their math scores, better work habits, stronger task persistence, improved pro-social behaviors, less school absences and higher graduation rates than those students who do not participate in these summer programs."
Barb Hoppe Johnson, Bright Lights Co-Founder, introduced the Celestial Club to light up the future with planned giving. Through planned giving a donor can make a tax-deductible gift to Bright Lights and may also designate it towards programs or projects they are passionate about, such as need-based student scholarships or LEGO Robotics equipment. A gift may be given through a will, living trust, life insurance, or appreciated assets. "Lincoln is a giving community and Bright Lights wants to be around for many more years to continue to serve students. The Celestial Club is designed to provide the light of education now and into the future with planned gifts."
Bright Lights is a non-profit organization that takes learning beyond the classroom by providing youth with unique motivating, hands-on learning opportunities. You are invited to join the Celestial Club by giving the gift that impacts children – the Gift of Education! For more information contact the Bright Lights office at (402) 420.1115 or click on the "Contact Us" button above.