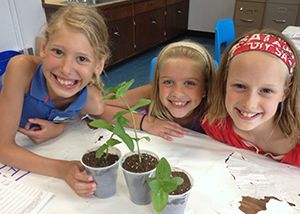 Rather than a fun amusement park ride, the summer slide refers to the one to three months of learning many children lose during the summer months. Recently, studies also indicate that it appears this summer learning loss is cumulative over time and can contribute to widening the learning gap for some students. But this same research also indicates that the positive effects students receive from a high-quality summer learning program endures for at least two years after participation.
Bright Lights Summer Learning Adventures has established a 27 year reputation in the Lincoln community for delivering outstanding summer learning classes that offer students a hands-on and engaging opportunity to combat summer learning loss. With over 115 half-day classes as well as full day camps, Bright Lights offers a variety of creative yet challenging learning experiences that will appeal to learners post-kindergarten through post-9th grade. With 98.9% of the parents responding that they liked the variety of the classes and 100% agreeing that they would recommend the program to others on the 2013 program evaluations, parents clearly view Bright Lights as a summer learning star.
To learn more about the research on summer learning loss and the characteristics of a quality summer learning program, visit Rand Corporation's article on Summer Learning.