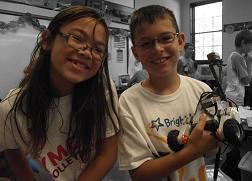 Bright Lights is excited to announce the expansion of their 2014 summer LEGO Robotics classes through the purchase of the recently released version of Mindstorms Education EV3 kits made possible by a grant.
Through the use of these hands-on learning tools, students are able to reinforce curriculum goals in all the STEM (Science, Technology, Engineering, and Math) areas of learning. Using computers and the LEGOs, students learn basic engineering and math skills that teachers and project organizers hope will boost their long-term interest in STEM fields. More than just simple toys, LEGOs are valuable learning tools used not only in elementary, middle, and high schools but also in engineering and architecture colleges across the nation.
Additional teachers were trained during the 2013 program weeks so that more classes can be offered in 2014. Goals include offering an all girls class and expanding to younger grade levels.
Mark Danley, Lincoln Public Schools Computer Specialist and Bright Lights Teacher, says: "What happens is that through the process of imagining, designing, building, and programming this robot, the kids are actively engaging in many of the STEM objectives and often performing multiple STEM tasks at the same time."
Bright Lights program dates for summer 2014 are: June 2-6; June 16-20; July 7-11.
Return to News Main Page