Summer Learning Adventures for Elementary and Middle School Students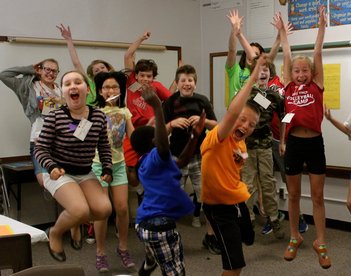 Mission Statement
Bright Lights is a nonprofit organization that takes learning beyond the classroom by providing youth with unique, motivating, hands-on learning opportunities.
"My kids can't wait for next year! As a parent to hear them say they've had the best summer is priceless. The organization is well planned and the kids learn so much, often without realizing how much they are learning.

"Thank you for supporting this program, for all who take the time and dedication to make this a great program a success, and for making it a memorable experience for my kids. We will always support a program that continues to further a child's education and learning experience. If we as adults don't provide the opportunities to children, then children won't have those opportunities. So, once again, thank you… A job well done!"
—Summer 2015 Bright Lights Parent/Guardian
Bright Lights began in 1987 by two moms, Barbara Hoppe and Jan Dutton, wanting summer mental Olympics for their small children as they began to see budget cuts in the public school summer program. The concept grew from a graduate school project for Barbara and Jan into the program it is today serving nearly 2,000 Lincoln area students each summer. Bright Lights has provided a strong, summer enrichment program by providing authentic, stimulating, hands-on  learning. Bright Lights' goal is to promote the habit of life-long learning while having fun and making friends. 
 
"Bright Lights is that perfect combination between academic and fun. I attended Bright Lights as a child, and still have fond memories of the activities I participated in. Some of the things that I learned, I still use to this day. I expect my children will be able to carry the skills that they learned with them throughout their lives." 

—Summer 2016 Bright Lights Parent/Guardian